A quick check of Sarah's blog reminded me it was time to check in against the list of sewing I said I'd do back in late October...here goes!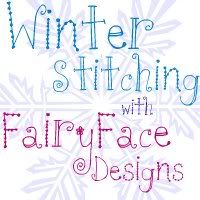 Bee blocks: I finally caught up with these a couple of weeks back, and have just completed Judiths scrappy log-cabins (in the pink below!) which brings me almost up to date!
Craft fairs - well this pretty much took over my life in November and December. In total, I think my stuff was on sale at 6 or 7 fairs,
Business cards - done! Thank you MOO!
Childcare - tick. I have a childminder in place for a few hours a week and Felix is happy, except for the few seconds as I leave the room, which she still doesn't like :(
Brit Quilt Pillow fight - loved it - here's what I made, and what I was lucky enough to receive
Christmas presents - done! Table runner, chair covers, tote bags, make-up bags etc.
Learning to screen-print onto fabric - I'm so excited about this...next Tuesday I am going to spend the day with a local screen-print artist, who happens to do the most beautiful tea-towels and other products, and we are going to try some simple screen prints onto calico and linen...will report back.
Add to my solids stash..err..well stash has definitely grown, so I guess this is a tick!
Hmm...from now on it all gets a bit less impressive...
Sliced coins quilt - absolutely no progress...zilch....nada
Ditto for my Bee Europa Quilt for Felix, and a quilt for me...but I do have The Stained Pink Quilt along planned, thanks to the lovely Sarah.
Free motion quilt a large item...not yet
Approach another shop...no time for this one either!
There were, however, a few things that weren't on the list...
A few commissions that popped up along the way
Making a quilt to sell - the bonkers quilt
Taking part in another secret swap, the Mouthy Stitchers zippy pouch swap... I'm currently stalking my partner for ideas of what to make them!
Getting through to the Shortlist in the Quokka quilts Bloggers choice bundle competition...I made it through to the last 8 (out of over 300!) with this selection...and although I didn't win, I was still super chuffed to get that far.
Oh, and Carly over Crafted by Carly very kindly awarded me this blog award - Thanks Carly!
Bring it on 2012, let's get some more things ticked off!
x