Way back in October I created a winter stitching list and linked up to Sarah over at Fairyface designs - the aim being to tide me through until the warmer climes (ha-de-ha). I had a little mid-point review in January and now is the time to do a final update on progress.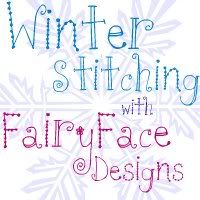 The good news first:
1) Bee blocks..The final few have been delivered For the European Bee I have been part of. I was so late that I'm sure all the lovely ladies in that Bee have been (legitimately) cursing me, so can't inflict my lateness on them any longer and won't be carrying on for a further year. (lesson to self, do not take on too much!)
2) Brit Bee is still going strong with these blocks being delivered.
I also had my month in March and asked for paper pieced foody blocks...and look what I got!!!!!
1.
Time for Tea?
, 2. Needles and Lemons - Eggs!, 3.
Brit Bee block
, 4.
raspberry ripple
, 5.
Miss March Brit Bee Block
, 6.
a March Bee Block
, 7.
Drink up
, 8.
Pizza!
, 9.
Brit Bee March Pineapple Block
, 10.
Foody block from Jo
, 11.
apple block from Jennie
, 12.
Brit Bee Block for Ceri
There is also a sooper-dooper mad hatters cake on it's way from Terri (I've had a sneak preview!) and then I need to do a couple of blocks - this is going to be one amazing wall-hanging!!
3) Learning to screen print. I did this, it was fab, and I'm addicted!
4) Free-motion a large quilt - I did this with the Bonkers quilt, and my shoulders ached...but, I've had some brilliant tips re making the process a little bit easier on myself (sticky gloves, large table space etc) and would definitely to it again.
5) Approach another shop. I finally did this a couple of weeks ago. Feedback was positive so I'm just waiting to see what, if any, stock they'd like.
And the progress that wasn't..
6) The sliced coins quilt has not moved from the pile it was in in January, nor have the blocks for my Bee Europa quilt - I must get to it soon, there's wonderful blocks in there that need showing off
7) The Stained quilt along - I'm so sorry Sarah, this is all still sitting in a reusable Tesco's bag!. I've seen some amazing Stained quilts, so I will come back to this.
The unplanned...
8) Had a fab time in the Mouthy Stitches swap. I sent this to
IsisJem
:
and got this faberoony pouch from
Indianna Dreams
!
9) Guest posted at Fairyface designs with a little girls skirt tutorial
10) Mini-quilt made and submitted in the Modern Mini challenge... I didn't win, but had so many lovely comments and people pinning my image, that I felt like I'd won!
11) Made lots of gifts, and more things to sell.
Oh heck, yeah, and decided to get married this summer! (and here lies my excuse for anything not completed in the above list!!)

A quick summary of the latest on that:

THE DRESS - toile finished, adjustments made and pieces cut from the final fabric. Facings designed and cut. Bodice is half stitched together.

THE BRIDESMAIDS - Successful trip to Oxford Street on Saturday resulting in three bridesmaids dresses for the older bridesmaids and three ridunculously high pairs of shoes
(not unlike these - their choice, honest!)

THE INVITES - invites designed, printed and sent by me - watch this space - I hope this one deserves a post of it's very own :)

If you've got to the bottom, thanks so much for reading..shorter post next time, I promise!

x