There's just about enough time for me to get off the fence and document my Winter Stitching List, for linking up with the lovely Sarah at
Fairyface designs.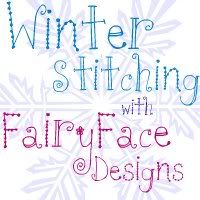 And I'm going to cheat a little bit by immediately ticking some things off (is that allowed?!)
OK, in vague calendar order:
October:
(yes yes, I know I've only got one day, but these lists are supposed to be challenging, right?!)
Finish Brit Bee blocks for Laura
Stitch a tree block for Johanna in Bee Europa
Make a bag for carrying work folders for friend Nikki's birthday, to her specifications - grey denim, a chosen fishy print and teal (if you know Nikki, you'll know the teal is not optional!)
Mark II of the hungry caterpillar draft excluder. You can read about the original here which looked like this...so anything will be an improvement :)

Sort out business cards
Sorting out a teensy bit of childcare for November (see below for the reason why!)
November:
Make enough stock for half a craft fair stall (19th November) and extras for a friend's Christmas fair stall the weekend before. So I'm thinking I'll aim for the following volumes...it'll be interesting to see how close I get to these!
10 cushions
5 zippy make-up bags
3 Door stops
5 bags of varying difficulty!
10 fabric covered handbag mirrors
20 fabric covered badges
10-20 Christmas decorations
Plus November Bee Blocks (stars for Ulrike in Bee Europa) and for Brit Bee, we'll have to wait and see as Miss Hadders is keeping it secret!
PLUS finish my chosen cushion and little extra for my partner in the Brit Quilt Pillow fight! Don't worry partner, if you're reading, this one will get prioritised above the list above!
December
Finishing the stacked coins quilt, which was the first quilt I ever started.
Stock for the shops if needed (cushions, doorstops, draught excluders)
Chrimble presents (I'm not listing these here, for fear of being found out!)
Adding to my solids stash (hopefully with the proceeds of that craft fair)
New year:
(it all gets a bit vague from here on!)
Find someone to teach me how to screenprint my own designs onto fabric
Stipple something (for non-quilty followers, in case you are worried about my intentions, this means to quilt something in a random pattern!)
Make a quilt for me inspired by this one
Possibly approach another shop
Finish the quilt for Felix, made from the Bee Europa flower blocks
Decide on what I'm going to ask for in my month of Brit Bee (how exciting!)
Phew! Eeeek, writing it down was supposed to help, but now I'm panicking...OK...breathe...
Here's a few cheeky things to cross off the list:
Nikki's birthday was yesterday, and she liked her bag!
Here is Mark II of The Hungry Caterpillar. He's about half the size girth-wise (that really does sound sleazy)and not quite so ridiculous looking! If you want him you can find him in "Made in Hastings" unless he's wiggled off the shelf already :)
Sorry about the comedy staging of this photo, taken at the crazy golf with my phone, having forgotten to get a picture before leaving home!
I will report back on the Bee blocks and the child minding situation in a day or two.
X