Yeay! The mouse has arrived! Click
here
to see the previous work in progress and inspiration for my Charley Harper Quiltalong efforts. And since he is a Charley Harper creation, I had to name my version in his creators honour! This measures approximately 21 x 18 inches is a wall hanging for Felix's room which is currently lime green and grey but with no other scheme (it used to be our room) So not only do I now have a piece of wall art, I have the beginnings of a theme for her room (think murals of trees and other woodland creatures!)
For those of you that are interested, here is a run down of how he was created (ignore the next paragraph if you're not!) I used only fabrics from my stash so he's a bit of a freebie...
I pieced strips of patchwork cotton together with a piece of soft brown furnishing fabric (learning: should have interfaced this!). The hole was marked with a dinner plate, cut out and bound with chenille wool. The leaves are all stash cotton fabrics that have been fused to felt. I machine stitched the detail and only attached them at the centre line so they would stick out and add to the 3D effect. The lizard is fused and then stitched on - I used my free motion embroidery foot to work his feet. The mouse is pieced, with appliqued nose and eyes and machine stitched whiskers. The whole piece is lightly quilted with a lime green backing and I intend to add a chocolate brown binding.
He may not be the most sophisticated mouse in town but I think Felix will love him :)
(edited)
Oooo, and I'm linking up with the fabulous Quilt Story (love their blog!) and Fabric Tuesday to share a little Charley joy :)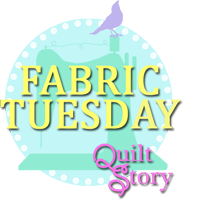 Now to the growing To-do list. I got some exciting crafty news yesterday which will add to my list (more about that in another post with any luck) and being a glutton for punishment I've also signed up for the
Supernova quiltalong
over at
Freshly Pieced
. This is a gorgeous looking quilt and doing it will hopefully help me learn a few more techniques! My brother has asked for a quilt/playmat for his bump (little girl due in June) so I'm thinking this might be the perfect gift!

Yikes, better get cracking!

x