Apparently I use the word "Gosh". James finds this highly amusing, especially in amorous situations (sorry mum and mum-in-law!). But since I think it's probably the only bit left of of my Oxfordshire dialect (after years in other parts of the UK) I'm hanging onto it!
Anyway, today is a "Gosh, how exciting!" day because my Supernova quilt is being featured by
Quilt Story
!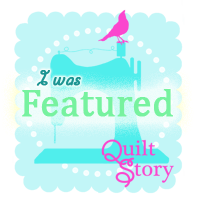 If you are a lovely follower and if you've seen my Supernova a hundred times before / are a bit bored about me going on about it, then just to entice you, Heather and Megan have kindly added a "never-seen-before" picture of my 8 week old niece using her quilt - yeay!!
And if you are new and have arrived here from Quilt Story, Hello! thank you so much for visiting :)
x